Education
Clowning Around
Click the poster to book your place now
Hocus Pocus Theatre's Artistic Director, Lucy Enskat is a skilled and experienced workshop facilitator. Alongside her career as a performer she has been teaching as a freelance drama facilitator in a number of settings since she graduated with a 2:1 Drama Degree from the University of  East Angila in 2001. Prior to this she trained at The Oxford School of Drama and performed for many years with the award winning Young Pleasance and Harrow Youth Theatre.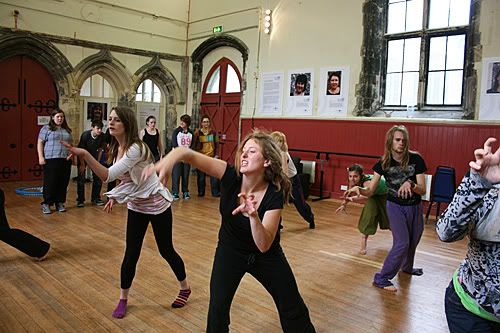 Lucy has worked for the past 11 years as both a community artist and professional performer delivering drama workshops for young people of all ages and abilities. This has included working with parents and toddlers at the Earlham Early Years Centre, Youth Offending Team, The Young Women's Project in Great Yarmouth, young parents across the county, young care leavers for the Museum's Service and she has taught drama to years 7, 8 and 9 at St Felix School among others.
She has worked delivering projects for Theatre Royal Norwich, Norwich Young People's Theatre, SeaChange Arts, Creative Partnerships, Community Music East, Tin House Theatre and Media Projects East. She has also provided workshops and performed Theatre in Education projects for GIBBER Theatre in Newcastle.
 Previous Projects that Hocus Pocus Theatre has delivered:
Walkabout Performance Workshops and Olympic Torch Procession – The Garage
Young Performers Theatre Group – SeaChange Arts

Drama Rama Club for Great Yarmouth Library

Bread and Circuses – SeaChange Arts with No Fit State Circus

Youth in Action – Sea Change Arts